[ADT x VIETTEL] CAMPAIGN: LIVE GALLERY

Project Name: Sống Gallery
Client: Viettel
Category: Innovative Technology
Context
The COVID-19 pandemic, along with multiple waves of social distancing measures, has plunged the world into crisis. Enduring prolonged lockdowns and social distancing has become a gloomy experience for the entire community, leading to a growing sense of distance among people.
In this context, technology needs to "speak up" to bridge the gap and bring people closer. For technology companies, this presents both challenges and opportunities to demonstrate their capabilities, position, and market sensitivity.
To contribute to addressing this challenge, ADT Creative and Viettel, the military-owned telecommunications group, have implemented the "Live Gallery" campaign – the first music show combined with an exhibition in Vietnam, leveraging the lens of 360-degree livestreaming technology. The show aimed to deliver humanitarian and meaningful messages, fostering community connections after the COVID-19 pandemic.
Objectives
By utilizing technology, the Liveshow affirms the position and reputation of ADT Creative as a pioneering entity in applying technology in the fields of Communications and Marketing.

Spread positive messages within the community after getting acquainted with the "new normal" life.

Delivering heartfelt stories that take the audience through a range of emotions, from joy and serenity to optimism.
Idea
According to statistics from Google and Facebook, the consumption of videos, particularly livestreams, has significantly increased during periods of social distancing caused by the COVID-19 pandemic. Fifty-three percent of users shared that livestream sessions with artists helped them feel connected, and 85% of users have watched at least one livestream in the past 12 months.
To foster unity and blur the boundaries among people, a 360-degree Livestream is the best solution for combining a music show with an exhibition. This unique livestream format allows viewers to actively immerse themselves in an authentic music and exhibition space, exploring every visual angle in a highly interactive and visually engaging way, just like being present at a live show.
More than just an entertainment activity, Live Gallery provided an opportunity for the audience to directly contribute meaningful donations to the Central Red Cross Fund, supporting frontline units in the fight against the pandemic and helping those facing difficulties to recover after COVID-19.
Implementation scope
With our leading technological capabilities, ADT Creative organized and produced the "Live Gallery" music show combined with an exhibition using the first-ever 360-degree livestreaming technology in Vietnam. This livestream format allowed viewers to freely explore the visuals with just a few touches, unconstrained by physical space.
ADT Creative was responsible for scriptwriting and developing a unique visual concept. The program, hosted gracefully by MC Phi Linh and featuring inspiring guest artists such as Den Vau, Van Mai Huong, Hoang Dung, and Nguyen Ha, successfully conveyed the full meaning and evoked emotions in everyone.
Result
"Live Gallery" ended with impressive numbers:
Over 10 million views
Over 50 million engagements
Notably, a total of 1.4 billion Vietnamese dong was donated to the Vietnam Red Cross fund.
Awards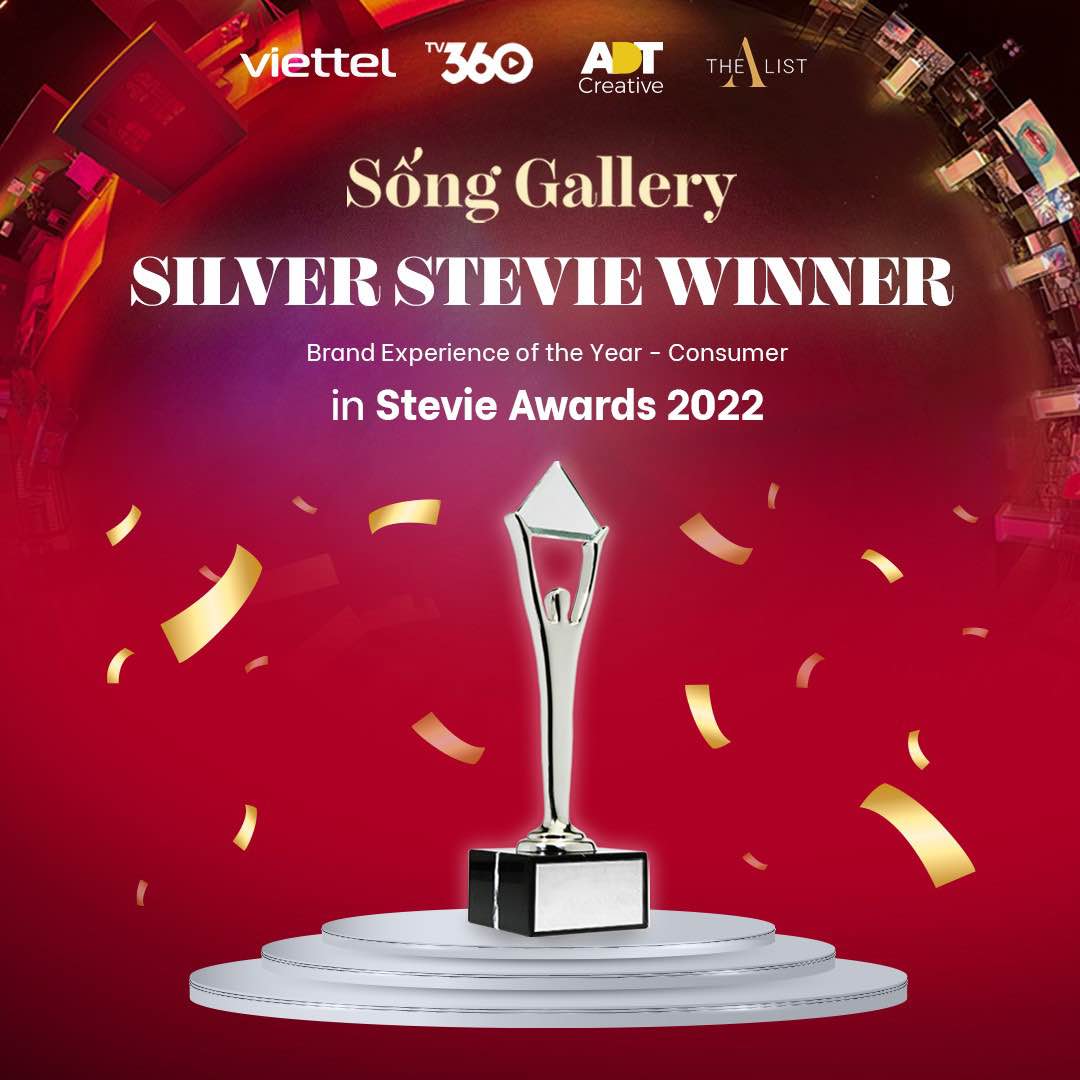 "Sống Gallery" has made a significant impact and left a deep impression on the public. It was not only due to the grandeur of the stage and the script but also the incredibly authentic 360-degree livestream technology.
The project excellently achieved prestigious awards:
Best use of Technology in Social Media Marketing at BSI 2022 in May 2022.

Silver Stevie Winner in the category of Brand Experience of the Year – Consumer at the Stevie Awards 2022.
Conclusion
The "Sống Gallery" liveshow not only showcased the humanitarian stories of the community but also affirmed ADT Creative's pioneering position in utilizing digital technology to create sophisticated, innovative, and remarkable communication campaigns.