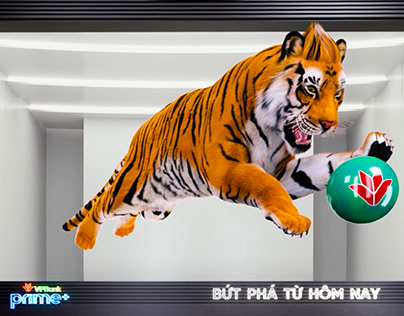 Client: VPBank 
Campaign: VPBank 3D OOH
Context
In recent years, the use of naked-eye 3D display technology in outdoor advertising (OOH) has become increasingly popular and has brought remarkable success to numerous international brand communication campaigns. Thanks to its uniqueness and direct interaction, 3D OOH billboards always create a strong impression and an unforgettable experience for viewers.
In 2022, VPBank repositioned its brand and declared its mission as "For a Prosperous Vietnam." With efforts to spread new values of prosperity, ignite the aspirations of young Vietnamese individuals to conquer new heights, VPBank actively contributes to the overall prosperity of the nation by bringing prosperity to each customer.
By following the trend of 3D outdoor advertising and spreading the image of "prosperity," VPBank, in collaboration with ADT, implemented a 3D outdoor billboard at the most prestigious location in Hanoi, Hang Bai Intersection (at Trang Tien Plaza).
Objectives
Reach a wide range of consumers, especially the Gen Z users who are adept at utilizing social media for connection and sharing.

Promote the campaign and brand through extensive coverage of images on social media platforms such as Facebook, Instagram.
Implementation scope
Using the image of a tiger, the zodiac symbol for 2022, ADT Creative creatively depicted the tiger playing with a ball featuring the VPBank logo. This impressively conveyed the message of "Breakthrough from today" for VPBank Prime.
Impressive 3D LED technology vividly displayed the image of the tiger on a giant advertising screen, providing a lifelike experience that made it feel as if the tiger was leaping right in front of people on the streets of the capital.
With sharp visuals and motion that seemingly "jumped out of the screen," the advertisement caught the attention and enthusiasm of many passersby, prompting them to stop, watch, and even take photos and check-in with this "stylish" tiger.
View the VPBank 3D billboard here.