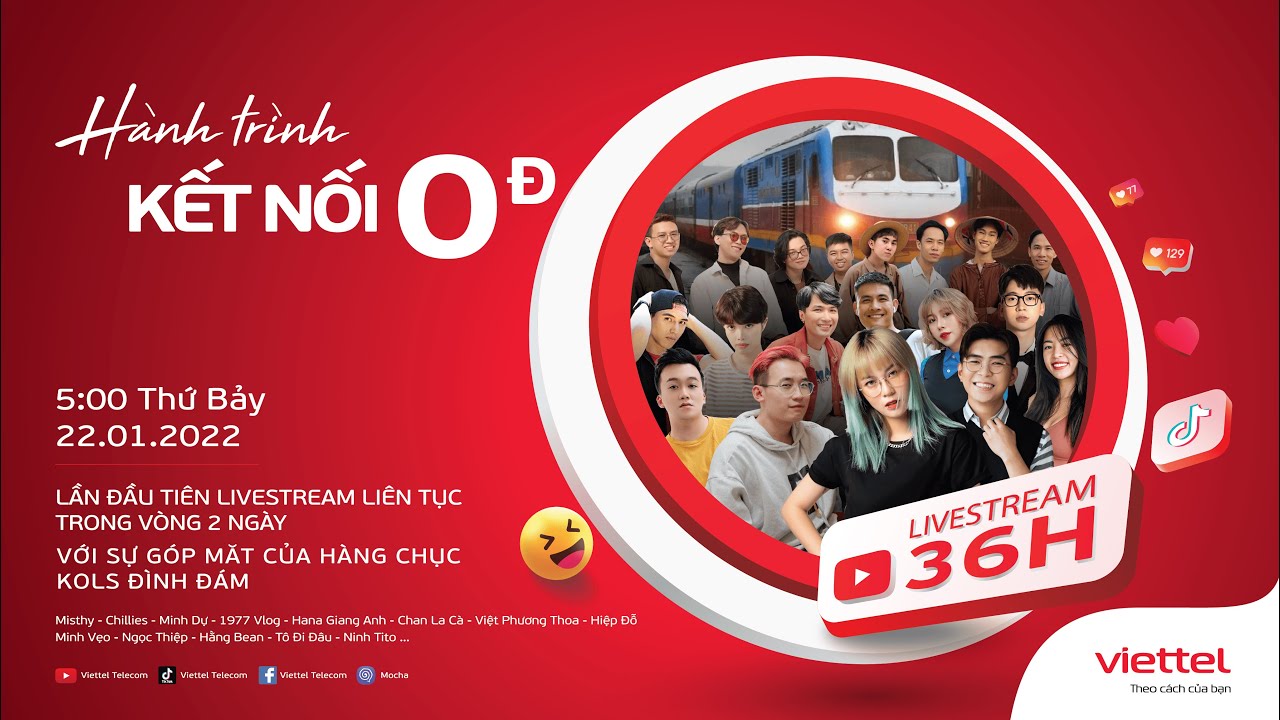 Context
  Market context
After a prolonged period of living with anxiety due to the Covid-19 pandemic, life is gradually returning to the routines of work and daily activities. Particularly during the year-end period, brands are racing to launch impressive Tet campaigns, which is also the time when we are getting accustomed to living "together" with the pandemic. According to research from Google, Covid-19 has impacted user viewing trends, with viral clips, TVCs, MVs, print ads, and livestreams emerging as the most popular forms of emotional sharing instead of traditional advertising formats.
  Brand context
Known as a pioneering brand in applying technology trends in marketing activities, Viettel consistently delivers modern and engaging communication content, capturing viewers' attention not only through novelty but also through underlying messages. Additionally, as 4G becomes an important factor in people's lives, the brand has gradually made the seemingly impossible possible, such as universal telecommunications and data accessibility reaching every corner of the country's S-shaped land.
Objective
3.1 Business Objective: Increase the number of 4G text messages sent to 191
3.2 Communication Objectives:
Increase brand recognition for Viettel and 4G Viettel

Enhance awareness for Viettel's "Connection for free" program
Insight
Derived from customer insights gathered by analyzing content consumption behavior during the Covid-19 pandemic, the creative team behind Viettel's Tet campaign identified the need for "getting out" and "connecting" among people. There is a desire to escape the confines of social distancing and loneliness, which becomes more concerned and practical than ever.
Creative Idea
"A 36-hour North-South Train Journey across the Country: Heard through Ears, Seen with Eyes, Loved by Hearts"
After a long period of social distancing and limited communication, the lives of Vietnamese people have returned to a "new normal." Instead of feeling disheartened and anxious, people are gradually accepting and embracing change. In response to these needs, Viettel Telecom, together with ADT Creative, developed the concept of a "North-South Train Journey across the Country" that connects various locations nationwide, evoking different emotions and creating a 36-hour experience of "Heard through Ears, Seen with Eyes, Loved by Hearts" through continuous livestreaming. Thanks to the power of Viettel Telecom's 4G, barriers were removed, allowing viewers to fully immerse themselves in their own unique experiences of exploring these "new spaces."
Excution
The campaign consisted of the following key phases:
Pre-launch: Focused on arousing the community's curiosity about the record-breaking 36-hour livestream program, the first of its kind in Vietnam.
Launch: Official video release and promotional activities to convey the campaign's message.
Engage & Convert: Concentrated on spreading the campaign's message and engaging with users, encouraging them to use the service through the message "send 4G to 191."
Sustain: Continued to amplify and remind target audience of the campaign's message.
Communication Results
Communication Results
25 million views on the top 4 platforms.

Continuous 36-hour livestream for the first time.

9 million engagements with the campaign.

A cross-country journey through 25 train stations in 18 provinces, providing unique exploration experiences.

A significant number of content creators, including key opinion leaders (KOLs) and ordinary Vietnamese individuals shared their stories.

Special Technology: 4G connection and 360-degree filming enhance the viewing experience.

Numerous scenes were filmed in various villages and alleyways, all created entirely on a regular train journey.