On December 17, 2022, representatives from over 50 leading Vietnamese businesses attended the in-depth workshop "Digital Twins – Trends update & application in business," offering profound insights into the application of technology in various fields.
Digital twins – an important transformation in the customer journey
Digital Twins – The next generation of the Internet, represents a transformation from flat content to immersive experiences. Through multidimensional experiences, the parallel world – Digital Twins not only provides unlimited connectivity and exploration opportunities for users but also opens up business development prospects for agile enterprises in keeping up with market trends.
To meet the increasingly demanding expectations of consumers, Digital Twins is considered a breakthrough- a visual means to attract and retain customers, applicable to various industries including entertainment & gaming, healthcare, retail, and e-commerce.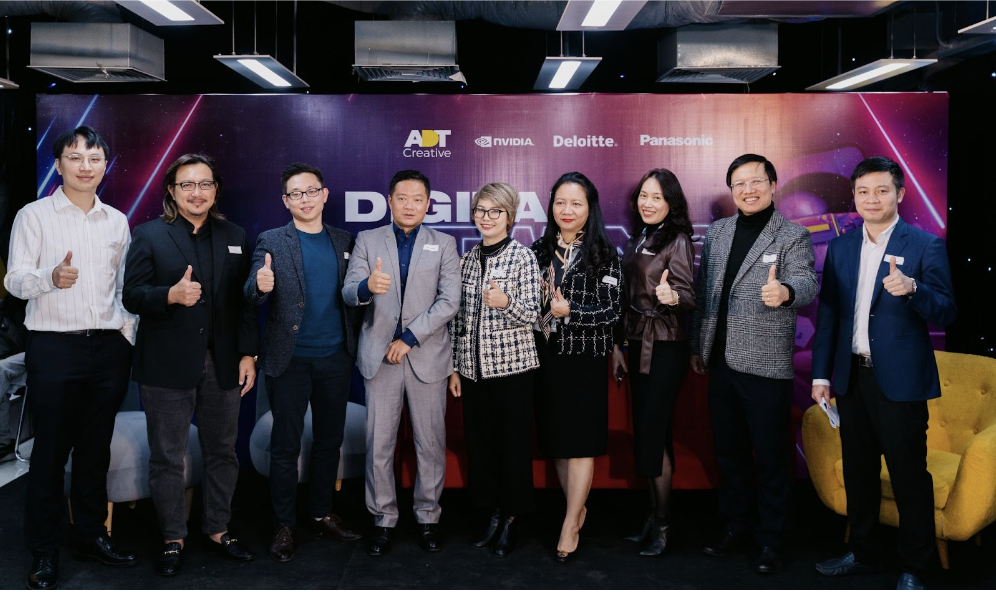 Keynote speakers from Nvidia, Deloitte, Panasonic, BIDV, Petrolimex
Ms. Hiep Nguyen, Director of Digital Transformation at Deloitte Vietnam, stated, "Digital Twins serve as a funnel to capture all customer behavior data, enabling businesses to analyze their entire journey and formulate suitable solutions that better meet customer expectations."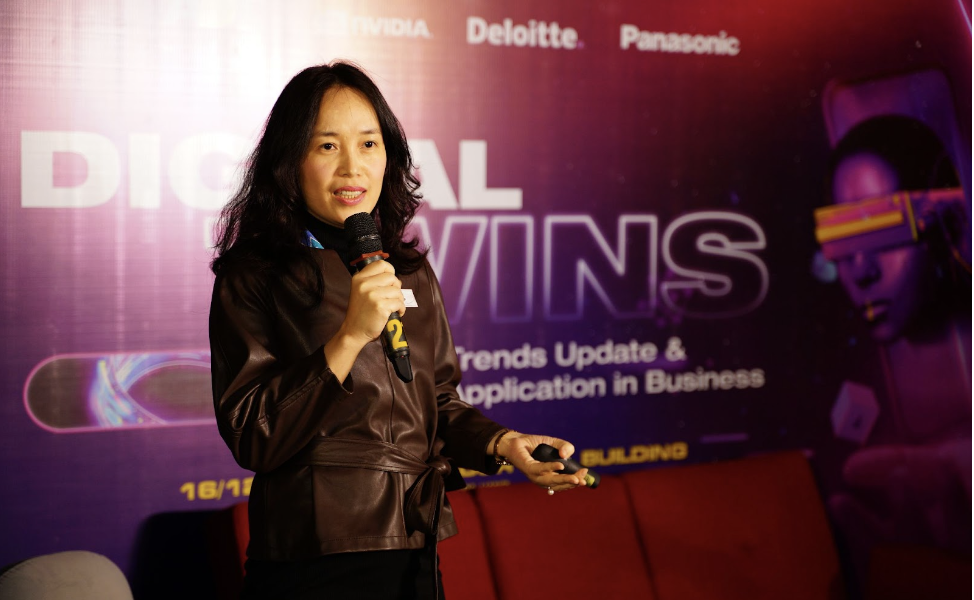 Ms. Hiep Nguyen sharing an overview of the development of Digital Twins in the Asian market
Ms. Hiep Nguyen also highlighted that Asia will be the hub of Digital Twins' development. Upon widespread adoption of this trend, Asia's GDP has the potential to reach 1.4 trillion USD per year by 2035. Digital Twins will bring trillion-dollar opportunities to countries in the region. Conversely, Asian economies will impact the user journey, transforming business operations and fostering positive innovation and widespread adoption of Digital Twins. Therefore, the development of this technology is regarded as a crucial strategy for Vietnamese businesses to dominate the market.
Vietnam is ready for Digital Twins technology development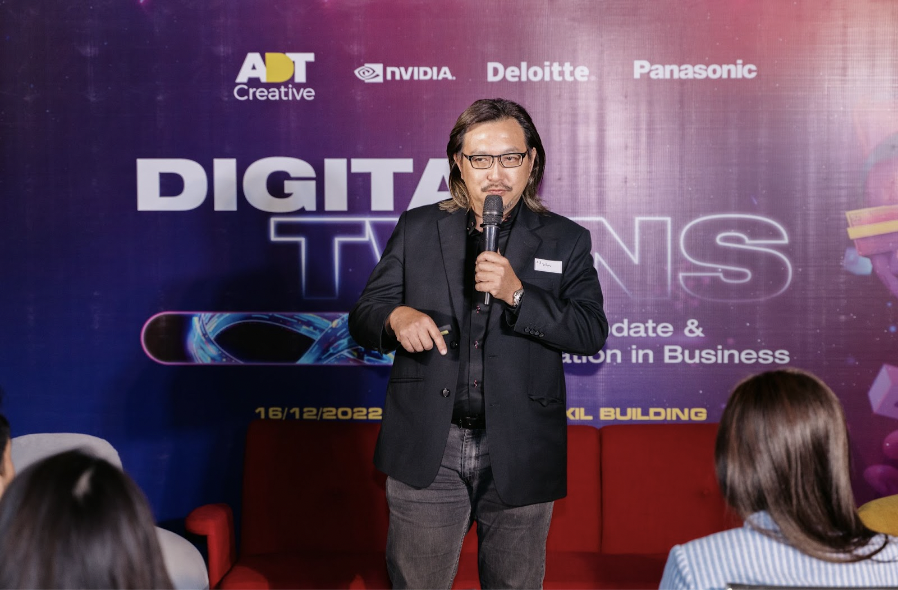 Mr. John Boey, APS Channel Director at Nvidia
Speaking about the application of Digital Twins in the Asian market in general and Vietnam in particular, Mr. John Boey, APS Channel Director at Nvidia, stated that Vietnam has the potential to develop complete Digital Twins, including technologies that generate metahumans and virtual worlds that connect everyone and everything.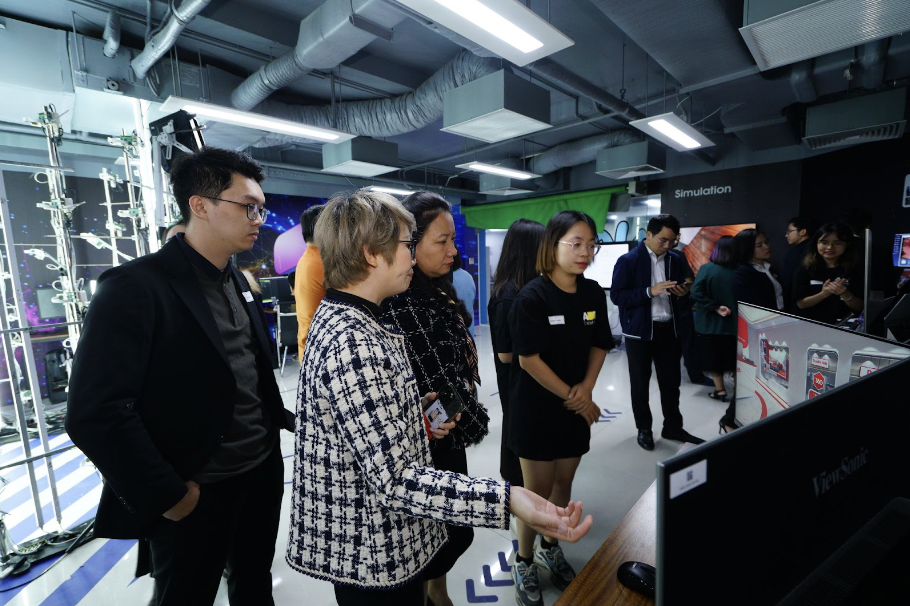 The studio area attracted numerous guests to experience the most advanced technology in the development process of a complete Digital Twin.
During the event, guests had the opportunity to experience the creation of virtual metahumans, from simple to complex, using a 360-degree photo booth equipped with over 100 cameras to record the subject's body images and process them into data on various Digital Twins levels.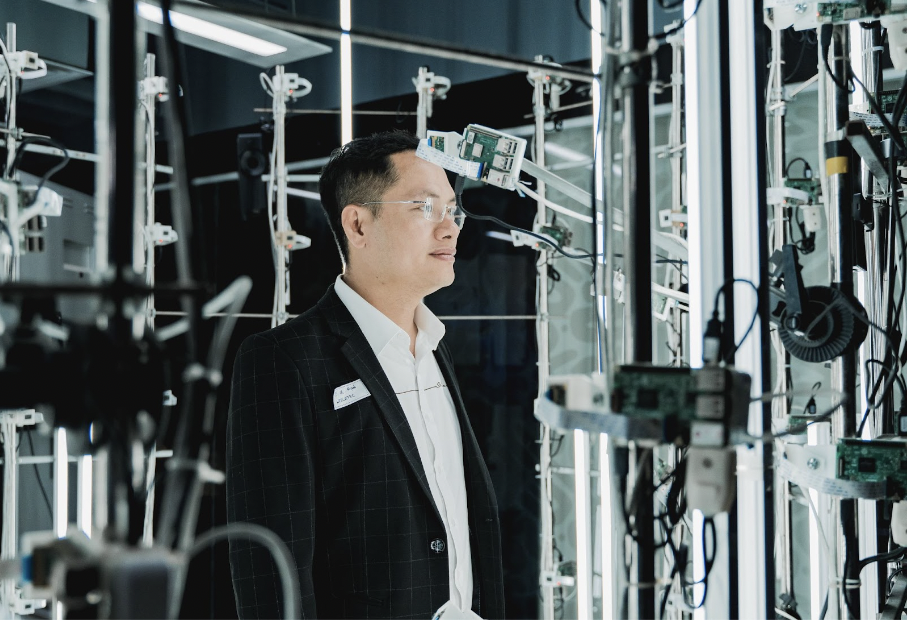 Guests excitedly experienced creating their own Metahuman versions.
Adding to Deloitte's viewpoint, Mr. John Boey shared that Digital Twins can only become mainstream when widely applied on basic smart devices such as smartphones, tablets, and computers, rather than focusing solely on VR devices as it is now. The trigger of Digital Twins is a virtual world – a place where metahumans connect and simulate the operation of the physical world. The four applications of this virtual world include:
Virtual Life – Digital space application in business, where companies can create virtual stores and enhance shopping experiences for customers.
Smart City – A smart city that connects the entire ecosystem of services and people. This application has been implemented in many countries worldwide (Singapore, South Korea, Thailand, China) with various applications such as Smart Hospital – Smart Education, etc.
VR – provides a vivid role-playing experience that allows users to have multidimensional and multisensory experiences. At the event, all guests had the opportunity to experience immersive scenarios simultaneously through technologies such as MultiVR Player and MultiView.
Virtual Performance – An experience of virtual stages, which is one of the first and most important applications to create content on Digital Twins. Through this, businesses can utilize it to produce instructional videos, event stages, podcasts, and more.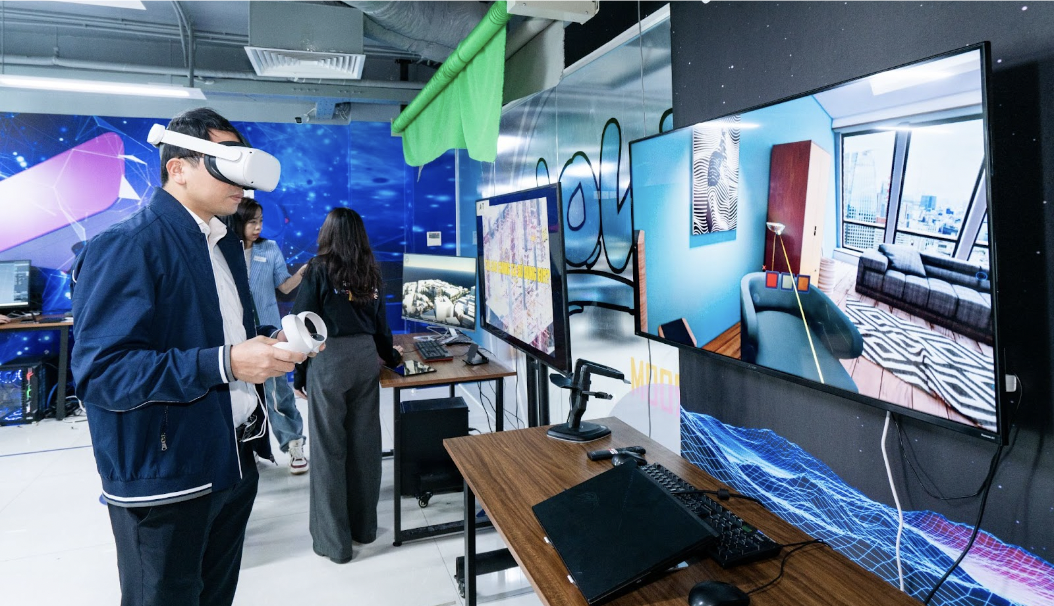 Virtual Life is accessible to the majority of users as it is compatible with commonly used smart devices such as computers, phones, and tablets.
Technology is evolving alongside humans to create a happier life. While technology advances, it is crucial to focus on how humans apply it to achieve optimal results. The synergy between humans and machines can open up a new era of business with superior and unlimited operational capabilities. Mr. Hoang, a representative from Panasonic, stated, "With the technological capabilities and market demand in Vietnam, Digital Twins are easily accepted and developed."
"Digital Twins – Trends update & application in business" is an event organized by ADT Creative, a strategic partner of Nvidia, ST Engineering, Intel, Viettel, Vietnam Airlines, and others. Established in 2015, ADT Creative is a leading provider of innovative technological solutions in interactive communications, sales, and customer service: AR/VR/Virtual Life in both the Vietnamese and Asian markets. With technological and creative expertise, ADT offers the latest packages of Digital Twins development, metahuman modeling and content production technologies, and groundbreaking interactive entertainment TV shows.
Contact ADT for consultation on strategic applications of virtual reality and interactive technology suitable for businesses.